Good morning! I know it's Sunday and I'm posting. So odd right? Well there is a new link up in town called the Sunday Social and I am hopping on the train. Join up, grab a cup of coffee (or hot chocolate, like me), sit back and get ready to make some new bloggy friends. Hope you like what you see here and I can't wait to meet
YOU
!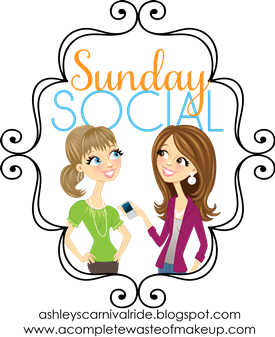 How did you come up with your blog name?
I was tired of my old blog name "...just trying to find my way" as I felt it was holding me back. Strange to feel that way about a title but it's true. I wanted something with my name in it and I wanted something short. So
unSimply Celia
was born with the help of one of my besties.
What is your favorite thing about blogging?
Some of the friendships I have gained!
What is one thing you have discovered because of blogging and now cant live without?
Erin Condren. Oh my god. Obsessed! and EOS lip balm. It is ridiculously big, but HEY I never lose it!


Facebook or Twitter? and why?
Twitter: I feel like facebook people just don't get it sometimes. Sad, cause those are all of my real life peeps. They don't always understand why I just took a photo of my nails. ;)

If one celeb read your blog who would you want it to be?
Bethenny, seriously just adore her! She has everything, the career, the marriage, and the most adorable little pumpkin. + assistance and nannies to help her ;)


What is something you want people to know about your blog?
What you see is what you get. It's my personal outlet. Most of the time I am happy happy joy joy, but sometimes I'm just down in the dumps or need a venting session. I share my personal life, and I share the things I enjoy. As I grow I hope to grow my blog with me to transition into each stage of my life.