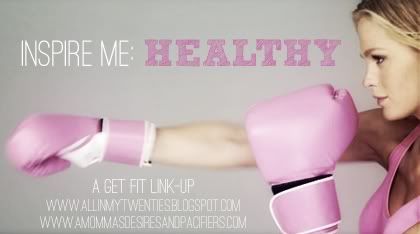 Y'all when I saw
Raven's
post pop up in my header I thought
I have to do this
!
Raven
and
Kristen
have started a get fit link-up called
Inspire Me: Healthy
. Myself and a couple other girls had been brain storming since June to do a link up but we have just been so busy we haven't been able to discuss it and go through with our plan. So thank goodness for Raven and Kristen! Now I can just write.
I've told my story already with Blogger's Biggest Loser, you can read those
here
,
here
and
here
. I kinda back tracked since then, and I refuse to step onto a scale. I'm sure I would have had a complete melt down. I have started
running
again and have signed up for some
5K races
. I have
new workout gear
that comes in this month that I am excited for. It's sweat activated!!
I gave up
all sodas
towards the end of last month. Today is Day 12 of soda free me! All I have consumed is iced water with lemon. Oh and I had one starbucks latte last week.
I did the
Advocare 10 Day Cleanse
and completed it yesterday. Between that and no sodas at all... I feel 100% refreshed. I used to need a giant Monster or Redbull and I don't need those anymore. I don't crave anything that is "bad" for me. I have been trying out the
SLAM
drinks and haven't decided on a favorite yet.
I'll be back with my before and after measurements. Silly me forgot to take measurements this morning. I can tell you though, I have been walking around the office with pants that used to be my
fat pants
, then became my
barely fit me pants
and now, they are
fat pants
again. They are entirely too loose on my behind, legs and waist. I keep having to pull them up. I have also gone in a notch on my belt loop!
I hope to do this weekly, but if not it will definitely be a biweekly thing for me. I am excited to be able to read about everyone else.