Oh hey friends! I've been a little preoccupied with all things wedding, career, fitness, and birthdays! I hope you haven't missed me too much!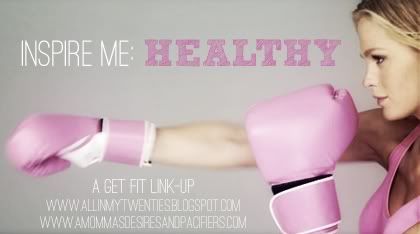 Raven
and
Kristen
are back for week 2 of Inspire Me: Healthy. You can see my post from last week
here
.
This week, I have still maintained a pretty clean diet. Even with a couple nights out with friends I opted for a healthier meal option or cut my portions in half. When we went out I consumed ONE drink, a skinny margarita one night (180cal), vodka and cranberry the next (150cal). I have been doing a lot of research on the lowest calorie drinks, I can't have friends thinking I am pregnant or go out on business having clients or coworkers thinking I'm lame. ;)
I am on
Day 19
of
no sodas
! Not even a sip. I can't tell you how much better I feel. I don't feel tired (other than today, and I'll share deets below). I drink water with fresh squeezed lemon or lime, and if I want something a little sweet I'll have a glass of punch, or I could have juice.
Chili's Margarita Chicken with Black Beans, Lime Rice and Pico.
1/2 portion chopped brisket sandwich + fries
On the exercise front, we have run Sunday, Monday, and yesterday. I also hit the gym yesterday for an arm weights session and had very shaky arms afterwards. Loved it. Yesterday I could not complete my run in the evening and walking back almost didn't happen! I don't know what happened, but I had sharp pains running down the front of my legs. I thought it was shin splints, perhaps severe but I have always been able to run through those. Once I came home the mister was sweet enough to massage my legs and we noticed I have bruises on each of my shins. =/ After I woke up this morning my legs seemed to have calmed down and I have been sitting with my legs up on my PC tower at work. I did walk to a little restaurant near by for lunch and my legs kinda hurt again... My next run should be Friday, but I may have to wait until Sunday...
Monday evening run, about 1/4 into it we saw some rain clouds but thought we would beat the rain. On our way back we ran straight into a thunderstorm. We had to stop under some trees a couple times because we couldn't see where we were going but it made the run fun.
After yesterday's gym session! "Sweat is just fat crying" ... at least that is what they tell me. And yes, I am the girl at the gym who works out with her hair down. We do exist!
Hope you'll tune in next week!