When Amy asked me if I would like to co-host a new link up with her, I had to say yes! I love
Pinterest
and I have tried a couple recipes here and there. On my old account I had pinned lots of things I wanted to do but I never really got around to doing it. Well, with my
new account
I have vowed that I will try to the best of my ability to do the things I
pin
!
Last week Amy launched her #SawPinnedConquered series! Check it out
here
.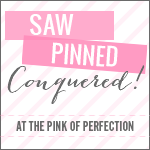 I love wreaths, but good gosh they are expensive. Well, the customizable ones are. Last year I saw people pinning monogrammed wreaths, I loved them, but was too lazy and too distracted to make my own. A couple weeks ago I decided to google how to make my own monogrammed wreath. I came across Chlesea's blog called
two twenty one
and she has the best tutorial on a
Jute Monogram Wreath
! I printed that baby out and pinned it.
It wasn't hard at all and took me less than an hour. Want to see?
Please pay no mind to the color of the door, we bought a condo and this is the color they want all the front doors to be.
I am thinking that I may cut the ribbon and hang the H a little higher.
I think I did pretty good considering this was my first time doing anything like this! I may make some of these as gifts for friends! I know I would have been ecstatic if I would have received something like this.
All of my supplies were less than $20 ! That included the glue gun, and glue sticks. One thing though, my glue gun leaks. I have to keep a paper towel under it so it doesn't leak onto the table. Perhaps I bought one that was too cheap? Those of you who craft on the regular, do you have a glue gun that you absolutely love? Or is this normal?
If you have made something recently inspired by Pinterest, please get your posts together grab a button from her site and link up with us! I can't wait to hop around and see what everyone else has made that was inspired by Pinterest. Follow me here.
(Note: Amy's internet is currently down, but she will have her post up sometime today so be sure to keep checking out her page to see what she has been up to!)